Tips to Matching Doors and Boosting Curb Appeal.
Garage doors and front doors are the two most dominant features of a home. Often, the garage door and the front door are first features people notice about a home. So it is essential that the garage door and the front door look stylish and coordinated.
Garage doors are also an excellent opportunity to enhance a home's curb appeal. Also, adding a new garage door can add instant value to a home. In Remodeling Magazine's 2020 Cost Value Report, it states that homeowners can retain 94.5% of the cost they put into a new high-quality garage door.
One of the easiest and most effective ways to improve curb appeal is by matching the garage and entry doors in terms of their materials, style and color. Here's some tips and tricks for coordinating entry and garage doors:
1. CHOOSE THE SAME STYLE
The simplest way to boost curb appeal with matching front and garage doors is to pick a single style. This gives homes a unified appearance, making it more comforting and inviting. There are several customizable features for both front and garage doors, which include door material, color selection, window style and decorative hardware style. Matching all these features can give homes a particularly distinct, customized appearance.
2. FIND A STYLE THAT COMPLEMENTS YOUR SURROUNDINGS
When considering a style for front and garage doors, consider window styles, colors and hardware that go well with the overall style of your house or neighborhood. You don't want to pick a color or style that clashes with the home style. For example, a bright coral color might work in Miami, and bold colors tend to look great on country-style houses, but they would likely look out of place on a Colonial or Victorian-style home.
3. PICK DOOR STYLES THAT COMPLEMENT EACH OTHER
The styles of garage doors and the front door do not have to be the same. Give a home a distinguished look by picking complementary or contrasting styles. If choosing contrasting styles, the style can still be unified by choosing the same windows or colors for the garage and front door. You can also try out similar-looking but distinct door features.
4 . MATCH A GARAGE DOOR BASED ON MATERIAL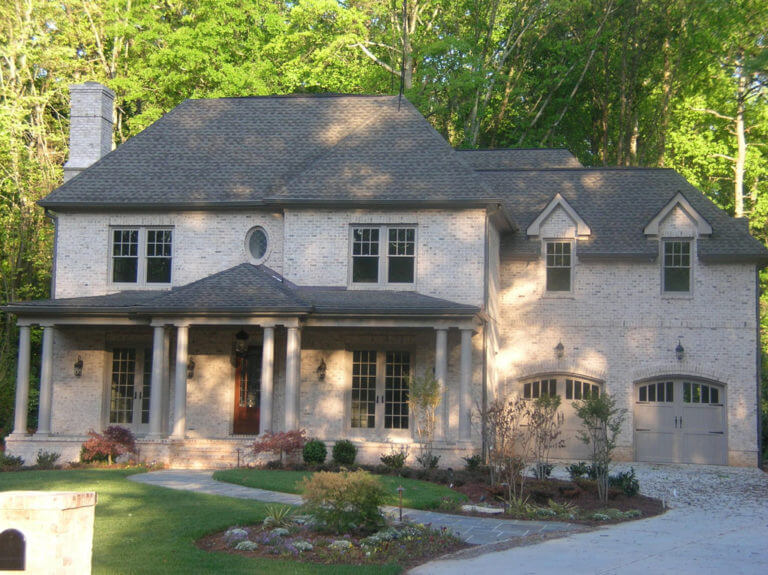 Different materials can give a home a unique look and feel. If a home has wood siding, it may be a good idea to install a wood garage door. If a home's siding is made from vinyl or fiberglass, it may be best to buy a door that is made from these materials. Also take in consideration that the material you choose for your garage door should be durable, hold up in your local climate, and be easy to maintain.
Learn more about the pros and cons of the different garage and entry door materials in our article "Choose The Best Garage Door Materials"
There are many things to consider when matching a garage door to the home and front door – from lifestyle (how busy is your life?), to door materials, to your personal style, to your home's color palette, to which doors can be easily painted, and yes, even price – all these things should be considered when you are looking to update your home and increase the curb appeal .
To learn more or to speak with someone to help determine the best garage door for your style, contact us by clicking the button below and we'll be in touch soon!
Looking to add value to your home? Read our article "Top 5 Reasons Why Replacing a Garage Door Is a Smart Move" to see how adding a garage door adds instant curb appeal and home value.